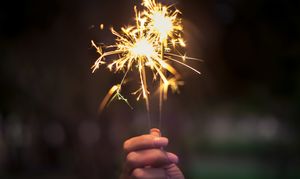 "Independence day was the day that we declared our dependence on God…" 
Mom has been gone for over two years now, but many of her words still resonate in my heart every day. 
On a day where it is imperative that we recognize and express gratitude for those who fought and gave their lives so we could live free, I believe it is imperative to remember the One who gave us freedom that is temporary and eternal. 
Freedom cost Jesus His life. His perfect life. In a world where we cry out because of injustice and unfairness when rights are violated, I am propelled to cry out on behalf of Jesus. He had every right to walk away.  Yet, He chose to freely give his life for our freedom. 
I sit gazing over our beautiful, freshly cut hayfield. Neat rows of hay waiting to be baled together. The harvest.  Jesus saw the harvest. He saw me. He saw you. He saw all of the beauty God created us for. He envisioned us free. Free from sin, shame, and death. He saw our souls so valuable he became a willing sacrifice. He knew setting us free would be worth His sacrifice. 
"But God demonstrates his own love for us in this: While we were still sinners, Christ died for us." Romans 5:8 NLT 
We are often stuck in our own self-deception, selfishness, and sin. Trapped in the mud of earth, we sit on the merry-go-round of self-pity and focusing on our pains.  I did this for years.  The enemy had me tripped up in my head and trapped in my heart. He was working steadily to keep me enslaved. His one goal? To rob me of the freedom that has already been paid for and to render me useless for the Kingdom of God. 
John 8:31-36 
In speaking to believing Jews, Jesus said, 
"If you hold to my teaching, you are really my disciples." 
Notice HIS teaching… not their adaptation, not their interpretation, not what they thought was right or convenient… His teaching. 
"Then you will know the truth, and the truth will set you free." 
Their response… 
"We are Abraham's descendants and have never been slaves of anyone. How can you say that we shall be set free?" 
Notice- they didn't even recognize that they had been slaves on numerous occasions throughout history (check out the Old Testament). At the time, they were oppressed by the Roman government. They didn't have eyes to see their own bondage. Neither do we at times. 
I have to wonder if Jesus had an inward smile, like when you watch your child inquire of something you long to share with them… did His heart leap as he saw the hunger in their hearts for truth and the freedom that was just around the corner? 
"I tell you the truth, everyone who sins is a slave to sin. Now a slave has no permanent place in the family, but a son belongs to it forever. So if the Son sets you free, you will be free indeed…" 
The freedom Jesus paid for is complete.  It is not only freedom from death and sin… it is freedom to walk confidently where He has called and gifted you. It is freedom to love others, even when they are cruel in return. It is freedom to give when it hurts. It is freedom to forgive when there has not been an apology. It is freedom to have joy, even when your world is crumbling, because this world is not all there is! We can live with eternity in view while traversing this broken land! 
Live free, my dear one. Release the chains you've been holding so tightly to.  Release the un-forgiveness, the bitterness, the anger that has you locked down in the pit of dark depression. Let go of the desire to control. Set yourself free by accepting His freedom and allowing Him to set you free completely and forever! He paid dearly for it. If you need to reclaim your dependence on Him or maybe you have never accepted it… let's pray this together… 
Father,  
I come to you in Jesus name. Thank you for dying for my sin and my brokenness.  Thank you for your sacrifice of service.  I need you. I am weary of being chained and broken. I accept your gift of freedom and salvation. Make me your child, your true follower. Today, this independence day, I declare my dependence on you.  I need you to be God, because I have found that I don't make a good god. 
I love you. Thank you for your sacrifice and for saving me. 
In Jesus Holy Name, 
Amen. 
Make this independence day the day you begin declaring your dependence on Him… and let's continue to declare our dependence on Him first thing every morning. 
Thank you to those who have fought for our freedom in this great country. 
Thanks mom and dad, for your declaration those many years ago. My life is changed because of your choice to accept and give forgiveness. 
Thank you Jesus for setting me free forever.