Thrilled with his new bike, he focused on pedaling down the driveway. Other than an occasional, "Watch dis, mommy!"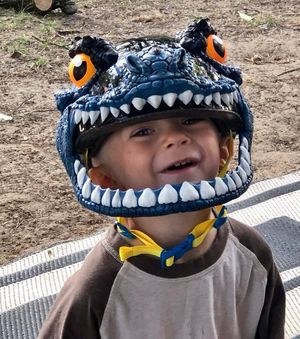 I was pretty much just an object in the background of his mind. Back and forth on the gravel driveway in his brand new dinosaur helmet riding proudly atop his Hot Wheels big boy bike. I disappeared into the landscape, his eyes intensely focused on his activity. He forgot I was even outside watching his new ability to traverse this big two wheeled bike, nearly too big for him. My heart was filled with joy, my eyes on him, watching him breathe in this moment happily, though he had completely forgotten about me. Then it happened… a turn taken a little too fast, his front wheel stuck in a divot in the driveway. Over he tumbled. I gasped. An electric shock shot through my body. I knew I was too far away to prevent the fall.  Painful tears filled the air as he cried out for me and I ran to his side. I scooped him up, kissing his forehead. 
"Momma! I got a owie on my knee. I fell off my big-a-boy bike." 
He managed to utter in between sobs. 
"I know, I'm sorry buddy. That looked like it hurt. We will get you a Band-Aid." 
Carrying him into the house, he stopped sobbing for a moment and looked at me. 
"Where were you? I didn't see you." 
I'd been there all along. I'd seen the entire incident play out. I was fully aware of the joy he was experiencing, and the fall he took. I was completely aware of him, yet he had become unaware of me. 
Oh dear one, how we are the same with our Father God! We traverse through this life, focused on what is right in front of us. Our business, our enjoyment and entertainment. We focus on our earthly relationships, our ambitions, our ministries, and we lose sight of the One whose eyes are ever on us! Until our front wheel gets stuck in a divot in the driveway and we topple off course.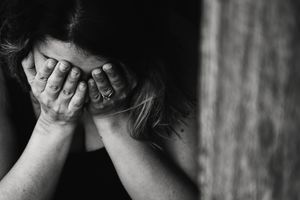 I have always found that pain has been a gift in my life. A gift that causes me to shift my focus back to my God and the things that are eternal. It awakens me back to true life, life that is permeated by remaining in Him. I find myself tempted to embrace all that is temporary, instead of constantly placing my focus on Him as I traverse this journey here on earth. 
I love how God is faithful. His eyes ever on us, even as our eyes shift toward our daily concerns shift our focus off of Him. He holds to His promise to never leave us or forsake us in times of trouble. His salvation and deliverance is sure for the Christ follower! Over and over as we read through the old testament stories, we see how regardless how unfaithful people are, if they are willing to repent, humble themselves and cry out to Him, He comes.  
He doesn't rescue from the circumstances of our choices, but He brings the eternal rescue through them. Just as He promises.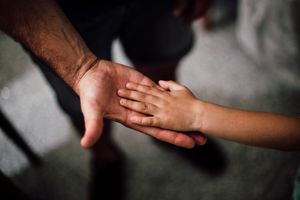 "Because he loves me, I will deliver him; because he knows My name, I will protect him. When he calls out to Me, I will answer him; I will be with him in trouble. I will deliver and honor him." 
Psalm 91:14-15(Berean Study Bible) 
"Pain points us to the One Who holds the promise." 
I have found in life; it often takes pain to get me to focus on the only One who can help me through it. We so often want relief from pain, but He wants to be relief through it. As we come to see Him as the rescue within the storm, we come to see that the swirling wind and pouring rain are not what we need to rescue from. We need eternal rescue. We need His strength and wisdom and His eternal promises from within the center of the cyclone. As we rest in His rescue, fixing our minds on Him, His promise of perfect peace holds firm.